AIR strikes

Radio Kashmir was created to counter the proxy war by Pakistan.
Rajesh Bhat traces the history of this unique institution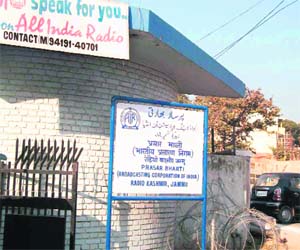 Following a raid by Pakistan in October, 1947, Maharaja Hari Singh set up the state's first radio station at Jammu soon after (December)
Photos by the writer
IF European countries used radio as a psychological weapon and a propaganda tool, particularly during the Word War II, our neighbour Pakistan has abusing this medium of sound while fighting a proxy war with India on Kashmir.
Upholding the principle that no war can be fought without lies which can fly fast, the Pakistani administration, right from its military rulers and strategists to its media, since 1947 had been using the air waves in its propaganda against India in Jammu and Kashmir. The objective of this anti-India tirade has been to stimulate hatered to influence the minds of the ordinary men and women, in particular the Muslims of the Kashmir valley.
After realising the designs of Pakistan, India has given an equal fight, mostly through Radio Kashmir.
It sounds odd when anchors of Prasar Bharati's Radio Kashmir have to make announcements about their identity every day, "This is Radio Kashmir''. But in the cities of Jammu and Srinagar, the two All-India Radio (AIR) stations are purposefully known and addressed by a different nomenclature.
The two premier broadcasting institutions of the state were set up with a specific purpose 62 years ago. And all these years, they have justified their existence, guarding the unity and integrity of the nation through its strategic broadcasts, both in the times of peace and war.
There is an interesting history behind the creation of Radio Kashmir. After the tribal raid launched by Pakistan in October, 1947, the then Maharaja Hari Singh set up two radio stations, the first at Jammu on December 1, 1947 and the second at Srinagar on July 1, 1948. Both these stations, set up with the active support of the Government of India and the Indian Army, initially functioned under the state government till April, 1954, and later merged with the AIR.
They, however, retained their separate identity for a special reason. This was to counter the Pakistani media, particularly some of its over and underground radio stations mostly operating from Pakistan-occupied Kashmir (PoK), apart from educating, entertaining and informing the public.
One such radio station, set up across the border, was the infamous "Radio Trarkhal''. Its sole aim was to spit venom against India, recalls Radio Kashmir-Jammu's ace broadcaster and its first anchor, Bodh Raj Sharma.
Sharma recalls how Radio Kashmir was set up in Jammu's Ranbir High School under extreme emergency. "Pakistani raiders had already intruded into Kashmir. To counter the rumours of war, a classroom in Ranbir school was converted into an open studio while another room was utilised as a duty room-cum-control room," he adds nostalgically.

Former Prime Minister Indira Gandhi during her visit to Radio Kashmir, Srinagar, in 1964. To her right is Station Director, N. L. Chawla
Photo: Courtesy AIR archives
A separate file on the establishment of Radio Kashmir has been preserved in the archival section of the State Department of Archives and Museums at Jammu. A detailed study of the file reveals many interesting facts.
J. N. Zutshi was the first Director-General of Radio Kashmir, who also held the post of the Secretary, State Information and Broadcasting Ministry. He was the one to recruit the staff for Radio Jammu. Zutshi's contemporary was P. C. Choudhery, who was the Director-General of the All-India Radio in 1947-48.
The proposal to establish a radio station was taken by Maharaja Hari Singh on November 15, 1947, and within two weeks, the station was established and the first broadcast was made by the maharaja himself on December 1 at 6.30 pm.
It was a live broadcast and the Dogra ruler was facing a mike for the first time. "In those days, there was no provision to record speeches," recalls Sharma.
In his first-ever radio speech, the Maharaja of J&K justified his decision to accede to the Union of India. A number of national and foreign newspapers, which had their representatives in Srinagar and Jammu, carried his speech quite prominently.
This irked the Pakistani media, which then speeded up its anti-India bashing. Programmes like Dhol Ka Pol andZarbe-Kaleem were frequently aired by Pakistani radio stations, while trying to play with the religious sentiments of Kashmiri Muslims.
"Such programmes were creating some unrest among the masses. And to clear the doubts and restore confidence among the people, Radio Kashmir carried out counter-propaganda, but with decency through programmes like Danke Ki Aawaz," recalls Sharma.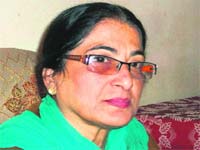 Radio Jammu's legendary announcer Rita Yousuf played lead roles in most of the counter-propaganda programmes. Even today, she is known by her broadcast name "Guddi" on the other side of the border as well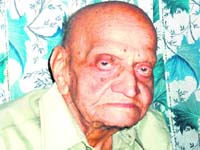 Pakistani raiders had already intruded into Kashmir. To counter the rumours of war, a classroom in Ranbir school was converted into an open studio
— Bodh Raj Sharma, Radio Kashmir-Jammu's first anchor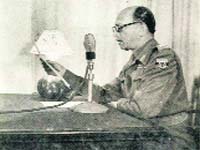 Lieut-Gen K. M. Cariappa (later Field Marshal) delivers a speech from Radio Kashmir, Jammu, on January 31, 1948
Photo: Courtesy AIR archives
Former Secretary, J&K Cultural Academy, Prof Rita Jitendra, who had an association of more than 55 years with Radio Kashmir, recalls how the station would also plan and conceive a number of counter-propaganda programmes during the 1965 and 1971 wars. "Noted broadcaster Melville Demello used to visit Jammu to plan programmes on the pattern of A Nation Prepared, which he anchored himself'," recalls Professor Jitendra.
Radio Jammu's legendary announcer, Rita Yousuf, gets nostalgic about those days when she would play lead roles in most of the counter-propaganda programmes. A stock character, known by the broadcast name of "Guddi" even today on the other side of the border, Rita recalls: "We were fighting the war equally, with our vocal chords while raising the morale of our jawans and at the same time hitting the enemy hard through our programmes like Zalim Khan and Jawabi Hamla".
Noted Dogri scholar and former Station Director of Radio Kashmir-Jammu, Dr Jatindra Udhampuri, recalls, "To counter the Pakistani programme Dhol Ka Pol, Radio Kashmir was airing Naqqara — a programme wherein Pakistan's military regime was criticised. Punjabi and Urdu mushairas and dramas were frequently broadcast for the listeners of Pakistan to remind them that they, too, are part of the composite culture of the subcontinent."
J S Pardesi, having worked as Programme Executive at Radio Kashmir-Jammu, recalls how programmes like, Jai Bharat and Fathu Coachwan were being broadcast during those tense times.
"Even today, we broadcast programmes like Waqt Ki Baat and Haqeeqat Yeh Hai to counter Pakistani propaganda," says Sanjay Koul, Programme Executive working at Radio Kashmir, Jammu.
Interestingly, Radio Kashmir's first anchor, Bodh Raj Sharma, still writes counter-propaganda scripts for which the Government of India spends a huge amount of money under the "J&K Package'' every year.
Radio Kashmir's second station; set up in Srinagar in 1948, too, all these years has fought the war of words.
"During the six decades of its existence, the story of Radio Kashmir is an interesting saga of growth. This spread the all-embracing broadcasting culture in Jammu and Kashmir," says veteran journalist Shyam Kaul.
Kaul, a frequent participant in various radio programmes, is of the opinion that Radio Kashmir has stood out as the only centre which touched great heights in countering the vicious enemy propaganda during all these 62 years. "FromJawabi Hamla of 1947 to Wotul Bujhe of 1965 and Wadi Ki Awaz in later stages, it was a centre of excellence all the way, with people like Pardesi, Rashak, Mahinder Kaul, Kedar Nath, G. R. Nazki, Bashir Butt, Pran Kishore, S. N. Sadhu, Mohd Sultan, Mohd Abdullah, Manohar Prohiti, Nikki Appa and Taj Begum working in front of the mike and behind it, tirelessly," recalls Kaul.
Countering Pakistani propaganda has not been the only duty of Radio Kashmir during all these years of turmoil. As a humane medium, Radio Kashmir conceived, planned and produced a number of programmes with an aim to bring the misguided youth of the state back into the national mainstream. Aaawaz Do Kahan Howas one such programme broadcast over Radio Kashmir, Jammu's CBS Channel. Similarly, Radio Kashmir, Srinagar, started a programme Kashmir Bula Raha Hai, calling upon Kashmiri Pandit migrants to return to their roots.
From 1990 to 1993, Radio Kashmir, however, faced some tough and testing moments. Its former Station Director, Lassa Kaul, was killed by militants for countering the Pakistani propaganda. Station Engineer S. P. Singh also died in the line of duty when a rocket crashed through the roof and landed in the room from where he was broadcasting. Two announcers Ramesh Marhatta and Mohd Hussain Zafar, too, were shot at in their legs.
The casualty list is quite long with numerous attempts made by militants to blast the broadcasting institution.
"The news unit was shifted to Delhi as it had become the target of militants," recalls former AIR correspondent, Ajit Singh.
"And those who were left behind to keep the institution functioning, put their lives at risk, at times staying in the radio complex for days together," recalls, Shamshad Kralwari, a programme executive.
During those days, Pakistani intelligence agencies had resorted to another gimmick by operating yet another underground radio station under the name of "Sada-e-Hurriyat'' (A voice of freedom).
It became a stiff challenge for the staff of Radio Kashmir to counter vicious programmes of this underground radio station, being aired in Urdu, Kashmiri, Gojri and Pahari languages.
To counter Sada-e-Hurriyat, a unique programme called Sada-e-Jaras (Sound of Trinket) was broadcast both by Radio Kashmir-Srinagar and Jammu for years together.
Propaganda apart, Radio Kashmir has still not lowered its guard even during peacetime in educating, entertaining and informing both its rural and urban listeners. Its Pahari and Gojri music, besides Punjabi and Urdu dramas, are all-time hits even on the other side of the border. That is what the hundreds of letters, the station receives every week from that country, have to tell.
............ .................. ................ ..................